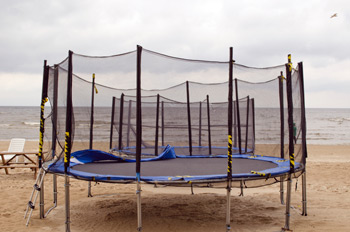 Overview
Trampolines and Bounce Houses (also known as moon bouncers) have become very popular for children and teenagers of all ages. Unfortunately, injuries, including broken bones, are very common during these fun and exciting activities.
When children injure themselves on trampolines or bounce houses, the injuries can be quite serious and may even require surgery. Injuries may result in permanent paralysis or death.
The American Academy of Orthopaedic Surgeons has issued a position statement regarding trampolines. This document states, "
Trampolines should not be used for unsupervised recreational activity."
That being said, there are certain steps that can be taken to increase the safety and decrease the risk of injury when using trampolines and bounce houses:
The use of a net or ground-level trampoline can decrease the risk of falls from a height, but does not prevent injuries related to collisions and twisting events.
One child at a time on the trampoline or in the bounce house is safest.
When children play in small groups in or on these devices, it is best if they are of the same age and size.
An adult should DIRECTLY supervise trampoline and bounce house use at all times.

More Information
American Academy of Orthopedic Surgeons:
American Academy of Pediatrics:
US Consumer Product Safety Commission: