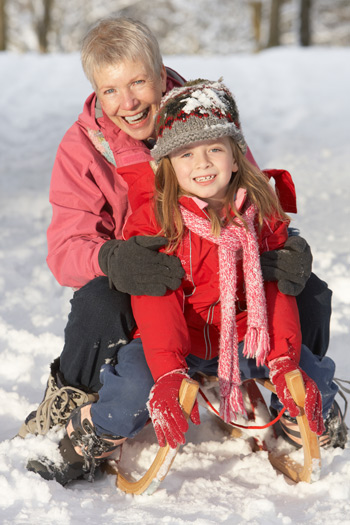 Overview
Sledding is a fun activity that many children enjoy. Children love speeding down the neighborhood hill, gliding over ice, and flying over bumps! Kids are ready to pull on their winter boots at the first sight of snow. However, this exciting activity can be quite dangerous. There were nearly 230,000 sledding injuries between 1997-2007. That is over 20,000 accidents every year! Most injuries happen in children ages 10-14, followed by ages 5-9. Boys are hurt more often than girls.
Common Injuries
Sledding accidents result in many different injuries. Some children will have only small scrapes and cuts, while others may be hurt more seriously and may need to be in the hospital. The most common sledding injuries seen in the emergency room are:
Broken bones (Fractures) — 26%
Contusions and abrasions— 25%
Deep cuts (lacerations)— 16%
Sprains— 16%
Traumatic brain injuries –9%
The most commonly injured body parts are the head, arms, legs. Traumatic brain injuries, as well as some broken bones, can be life threatening and are the most common reasons for being in the hospital after a sledding accident.
Age Recommendations
The American Academy of Orthopaedic Surgeons (AAOS) recommends adult supervision for children, especially those 14 years or younger. The AAOS also advises that children ages 12 and under wear a helmet to avoid brain injury. Children ages 5 and younger should sled only if an adult is with them.
What Can You Do to Make Sled Riding Safer?
With the right safety measures, sledding can be fun for the whole family. Here are ways to make sledding safer for your children:
Have adult supervision
Helmets, layered winter clothing, gloves, and boots provide protection. They also decrease the chance of traumatic brain injury, fractures, and other injuries.
Stay away from public streets. Traumatic brain injury is 3 times more likely in sledding accidents that occur near highways or major roads compared to other sledding locations.
Do not sled down hills with too many trees, rocks, or other obstacles. Most sledding accidents are due to a collision.
Separate young children from older children while sledding.
Do not sled in crowded areas.
Sleds should have a way to steer the runners. Do not use toboggans, inner tubes, and disks.
Use the proper sledding position. Children should sled sitting up and facing forward in order to have the most steering control. Sledding headfirst increases the risk of serious injury.
Sleds should be made out of sturdy material—avoid plastic sleds, which can be damaged by rocks and other sharp objects.
Sled during the day or in well-lit areas at night.
Never let children ride on sleds pulled by motor vehicles such as cars or snowmobiles.
Further Information
Resources
Howell, C. A., N. G. Nelson, and L. B. Mckenzie. "Pediatric and Adolescent Sledding-Related Injuries Treated in US Emergency Departments in 1997-2007."Pediatrics 126.3 (2010): 517-24. Web.
Voaklander, Donald C., Karen D. Kelly, Nina Sukrani, Andy Sher, and Brian H. Rowe. "Sledding Injuries in Patients Presenting to the Emergency Department in a Northern City." Academic Emergency Medicine 8.6 (2001): 629-35. Web